Set the Caster IP address and details:
In the main window, switch to the Caster and Clients tab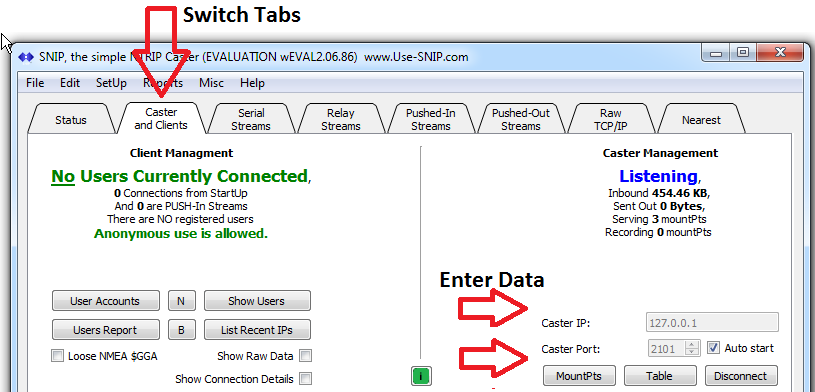 The Caster Setup Settings are shown along the right side of the tab
Enter one of the valid IP values for your machine
Enter the Port your NTRIP Caster will connect to Clients on, typically 2101
Check the Auto start box to enable your Caster to start serving clients when it is started
Look in the console log for a list of valid IP displayed just above the green banner
Hint: Set the Log Threshold to be Minor to see additional log details
Tip: How to find the valid list of IPs on your machine...
Use the command "ipconfig" from a command line prompt, or
Just before the console log lines are some green lines that have this same data:


One of these will be the IP address you will want to use. If you have a static IP, use that. If you have an DHCP value that has been forwarded to a public static IP, use that. If you are using DDNS (Dynamic DNS), use that port. Consult whoever maintains your local network for any firewall or port-forwarding details.
Hint:If you are unable to operate an NTRIP Server from within your organizational firewalls, you can also use RTK2go.com to PUSH-Out your connections, see this article for further details.