RTK2go™ is a web based software service that allows you to publish your base station information and exchange it with others.  For the small user or individual base station operator, RTK2go provides a publishing service so you can share your corrections streams with others.  Do not have a static IP of your own yet, use RTK2go.  You don't need a static IP and you can control when your data is made available to others.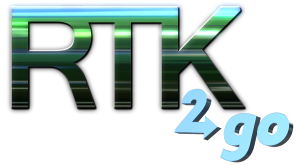 How to activate your RTK2go account.
You need an account in order to post a data stream to the RTK2go machines or to access that data.  During the beta testing period this free, but you must be registered.  After the extended testing period, new accounts which send in data (PUSH-In streams in SNIP terminology) may be charged a small annual fee.  Accounts which access data (NTRIP Clients) are free and will remain so.
Sending your NTRIP Data to RTK2go
(how your NTRIP Server Connects to the RTK2GO Casters)
Accepting data from a SNIP connection (from your copy of SNIP acting as an NTRIP Server to the RTK2go copy acting as an NTRIP Caster) is easy, but it required prior registration before we can accept your data stream.   See the site or log-on account details.  With data from other NTRIP Servers, the process follows the same steps, but also involves a human being on our staff and an email exchange.   See the SNIP knowledge base for details of how to connect to you data to any Caster.
Getting your NTRIP Data from RTK2GO
(how your NTRIP Client Connects to the RTK2GO Casters)
Connection to the RTK2go Caster is like any other NTRIP Client and uses any industry standard NTRIP Client tool.  See the SNIP knowledge base for various NTRIP Clients you might consider using, if you need one.
---
The service RTK2go is an built on SNIP, using an enterprise edition of the software. It accepts PUSH-in data from other devices (acting as NTRIP servers) including other copies of SNIP (who use a PUSH-out stream to send data to RTK2go).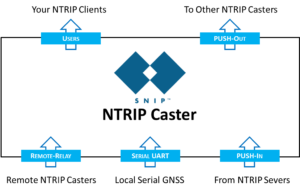 You can implement the functions offered by RTK2go on you own PC by purchasing a copy of SNIP.