SNIP now supports Geographic Reverse IP look-ups for the IP connections used by NTRIP Client users and for GNSS Base Station devices.
How it works
Whenever a device with a new IP value connects to a SNIP Caster, it is added to SNIP's cache for logging and tracking.  With Geographic Reverse IP look-ups some addition basic information about the source is also provided, as shown below.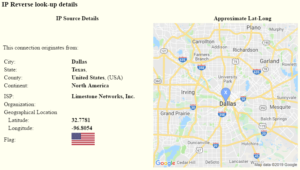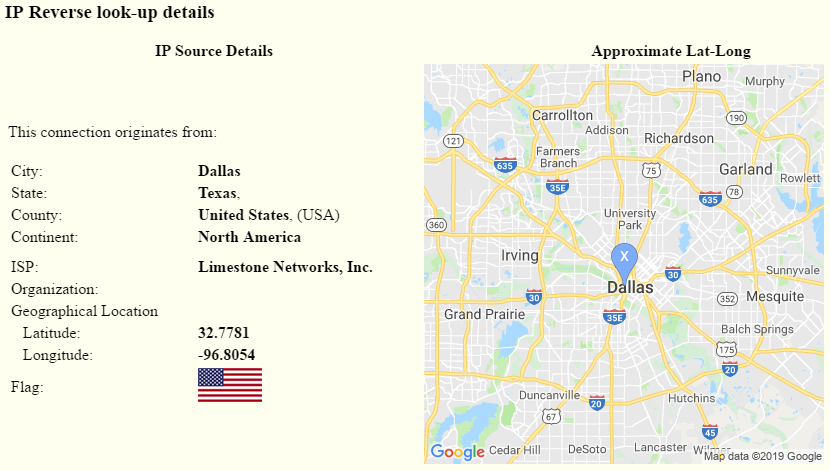 Where is it Used
The resulting information is typically used along with a general report about a single IP address and how it has connected to SNIP.  This is found in the "Single IP Use Report" that is accessed by clicking on the links for any IP address in the main console log or in any of the document viewer reports.   Here is a typical report, for the IP 63.143.42.248, where the Geographic Reverse IP look-up data is shown (click to enlarge).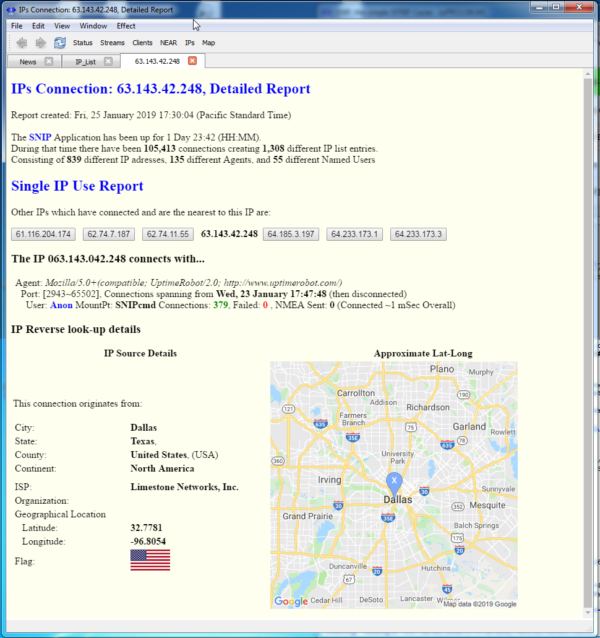 If Geographic Reverse IP look-ups are disabled (on Lite models of SNIP), then the two sections of the report are left blank.
The report will also be blank when a "private" IP address is used such as those starting with "192.168.x.x" or with "10.x.x.x" – values in these ranges are not assigned to a specific ISP.
In the case shown at in this image, the IP is used by a 24/7 monitoring service (the user agent string "uptimerrobot.com'" tells the reader that).
This IP has successfully connected to this SNIP Caster node 379 times over a span of about 2 days.  And it is repeatedly  asking for a status page (otherwise other entries would be present).  The information in this section is a typical SNIP IP report.  The connects with… section can be quite long and varied if the remote user is connecting to different Base Stations and/or using different types of software tools to do so.
The information below this (IP Reverse look-up details) informs us that this request came from the greater Dallas Texas area (USA), originating from an IP owned by a service provider called Limestone Networks.  The small map at right serves to provide a quick context.
Note: A few words on the relative location accuracy of Reverse IP look-ups.
Reverse Geo-location taken from the IP is generally correct only to the City level (tens of km at best). At times it can be very very incorrect.  The db used by SNIP is updated daily with new changes to track this. A further side effect of this is that multiple dispersed NTRIP Clients in the same general operating area may appear at the same 'city center' location, when in fact all that is known is that they share a common ISP operator. By contrast, the location values used by SNIP for Caster tables entries (~500m) or in Rover NMEA $GGA strings (~2m) or in the Base Station location (~mm) are all much more accurate. Map locations which are plotted by these methods are therefore of high confidence and much more accurate.
Note: The Geographic Reverse IP look-up feature of SNIP is based on an annual subscription service.   The first year of service is bundled with all new SNIP purchases.  It is (will be) bundled with SNIP's 24/7 upTime monitoring service to be released in 2nd Qtr 2019.   Until that time, the Geographic Reverse IP look-up feature is being freely provided for all users and all models of SNIP, including Lite models.