What is new in the Alpha 0_8_3 release    [March 17, 2016]
SNIP underwent a general rework of the Serial Streams Tab to make it more like the other tabs.  The same "spread sheet" view used in the other tabs is now used to cleanly show the status of each stream and the same right-click menu command approach is used. The new format is shown below.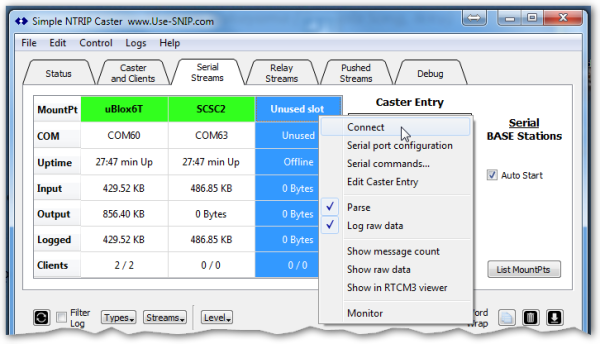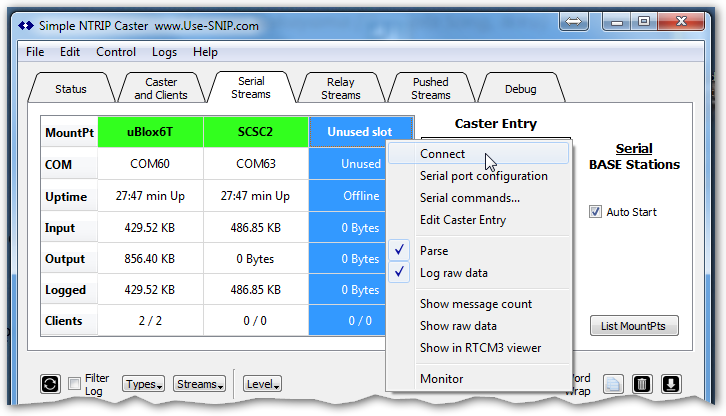 SNIP now allows a manual registration process to be used when the user's PC blocks the registration email that SNIP sends.
SNIP now retains all user entered registration data (names, email, etc.) in the INI file so the user does not need to re-enter this data.
SNIP now supports sending "set up" commands to each serial port as part of the connection process.  A dialog to select a file with GNSS device commands to be sent at the start and at the end of the serial connects has been added.  Because the format of these commands varies with each GNSS device, a simple common control protocol is now being developed.  The first manufacturer to be supported is uBlox, and the second will be Hemisphere (the SCSC reference station design uses Hemisphere GNSS).
The knowledge base at the SNIP support site at support.use-snip.com has had over three dozen small articles added to it which serve to explain how to use SNIP and general NTRIP concepts.
Server and stream reload logic was been improved to allow the user to start, stop, and edit the list of remote NTRIP data streams without the need for restarting SNIP each time.
Server textual messages still used the phrases simple NTRIP or sNTRIP, rather than SNIP , and these have been corrected.
The SNIP End User License Agreement (EULA) which is shown to the user during the installation process was not also a standalone file. The installer script has been corrected to create this file.