The console also supports filtering the type of entries by basic Stream Types.  This allows you to display or hide major portions of the console content.  You can enable or disable filters for:
Client Details
Events when your NTRIP Clients attempt to connect and disconnect
Relayed Caster Details
Events when SNIP attempts to connect to another remove NTRIP Caster
Serial Caster Details
Events when SNIP attempts to connects to a local serial UART device
Pushed Caster Details
Events when another device attempts to connect to SNIP and push data to it
Application and System Details
Events concerning the SNIP server and system operations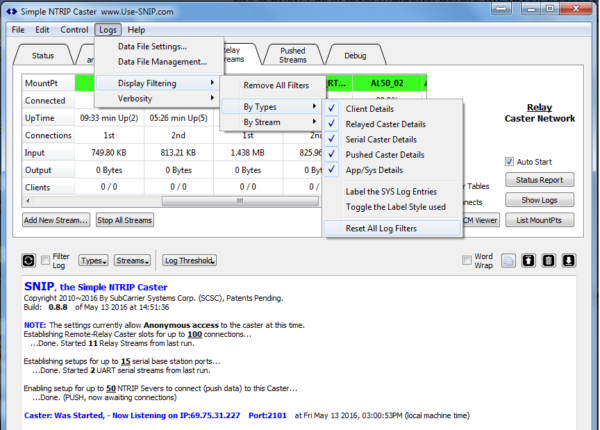 The menu which contains these filter switches also allows you to change the formats used to display the entries.
Labeling the System entries (Label the SYS Log Entries) adds the additional blue "slot" information to the display for common functional such as the server when checked
The menu toggle Label Style Used rotates the style of the display over four basic layout styles in which the type, the mountPt and the time of the entry are shown in various ways.
Finally, the menu item Reset All Log Filters will reset the settings such that all content type and data streams are displayed.
You can also filter by the specific data stream desired and by the overall threshold setting used.  These controls are often used together in order to select only the content of interest from the console log.