The SNIP console supports filtering displayed entries by their Stream Name (by their published mount points).  The list of  mountPt entries changes dynamically as streams are added and removed in the Caster.  The image below shows the drop-down menu with a set of mountPt (from various US States, AL, CA,and MI) that were operating on that machine; your own list will of course differ.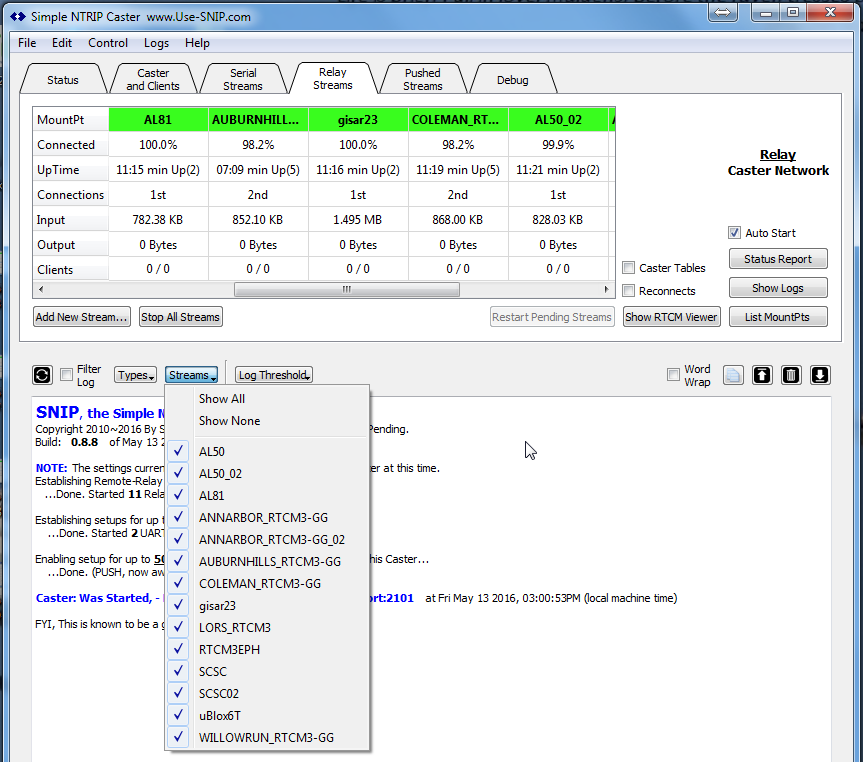 Your NTRIP Clients view your SNIP Caster in terms of the specific mountPt they wish to connect to, regardless of the stream type to which is belongs.  As the operator of an NTRIP Caster, it is likely you will also need to view the various mountPt categorized by the type of connection they represent (remote-relay, serial UART, or PUSH data connections) – see the article on filtering by types.
Note: Several types of log entries dealing with the operation of the caster or the SNIP system itself do not have proper mountPt names, and use their base type names when a mountPt style of log display is being used.
Note:  In order to use filtering by the stream name, the correct type of filter must NOT be filtered (the checkbox must be off). For example, to filter the console only to display a serial type caster with the mountPt "myUblox," all other caster names should be disabled (use the "Show None" menu item, select the "myUblox" menu), and the check box for "Serial Caster Details" should remain checked – to indicate that such a type will be shown.  Set the Log Threshold for the level of detail desired.  This ensures that the log events for the desired stream are not filtered.
Hint:  Old mountPt types (any mountPt which SNIP is no longer actively connecting to) are removed from the menu but remain in the log.  They can be viewed in isolation from other streams when the filter is set to "none."
Hint: A more common need relates to re-connection attempts to remote Casters.  The connection details of any remote-relay mountPt that is not successfully connecting (i.e. the connection is reattempted every few seconds to every tens of minutes) can be observed when the threshold is set to the "minor" mode. Additional details about the connection attempt can be observed with the "Reconnects" check box (in the Relay Streams tab) has been checked.
Hint:  Problems with client connections (NTRIP Clients failing to connect) are best handled by setting the threshold level to minor and enabling the "Display New User Connection Details" check box (in the Caster and Clients tab).  By examining the log report the problem is usually quite evident. Common problems like requesting a nonexistent mountPt, password mismatches, capitalization details, and other errors are reported in the log.
Typical Use
This menu is typically used in four steps to isolate the reported streams to a single stream for short periods of time.
First all streams are turned off (menu item Show None)
Then the selected stream is enabled (make sure that the correct type is also enabled)
Analyze and resolve the issues that caused these steps.
Finally, reset the log filters such that all stream are again reporting (item Show All)