What is new in the SNIP 1_12_0 release  [released December 21st 2017]
Includes the SNIP 1_12_1 release  with full support for 32 /64 bit restored  [released January 5th 2018]
This is the next release of SNIP following the Rev 1_10_0 release on July 12th. This is the final release of the Rev 1.x road-map.  It contains a peek at a number of early features for Rev 2.x  This release has more than the normal level of new functionality added to it.  A partial list is below; further details can also be found in the last Beta release pages.
It is recommended that all Windows 64-bit SNIP installations now update to using this release.
Do not use this release if you are only able to run a 32-bit copy of Windows.
NOTE
Release 1_12_1 restores the support for both 32-bit and 64-bit installations.  Several users requested we continue support for 32-bit builds, which we will continue henceforth.  Visible changes in the _1 release are otherwise minimal although further rev 2.x functionally is under the hood.
Major new features include:
This release of SNIP features a major revamp of the underlying code base to support more richly formatted html style reports.  You will quickly see this with the increased use of simple highlighting in the various console logs and report layouts.

New logic controls how the console scrolls to keep the most important information visible on the screen and not lost in the trivia and clutter that comes with having a very active Caster.  Pro users with many active connections will appreciate these features.  A helpful Pause button allows quick control over real-time scrolling while not losing messages for later viewing.

Extensive tool tips now provide key information about each Base Station by simply hovering the mouse over each stream.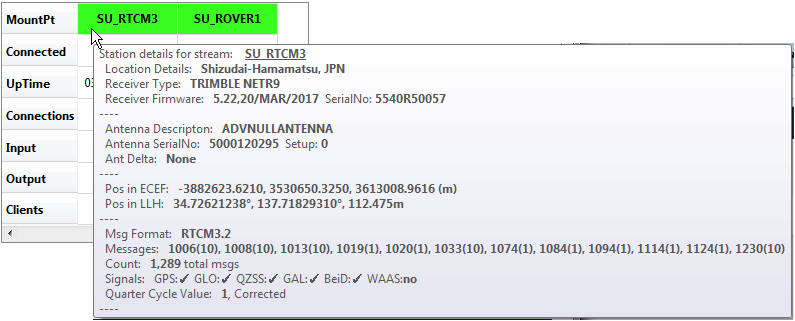 The IP Ban Control functionality introduced in Rev 1_10 has been expanded to also allow banning those users who constantly request Caster Tables without ever making a connection.
SNIP also implements a new SNIP-2-SNIP assistance logic system now. Many of our users employ multiple copies of the SNIP Lite at remote locations to feed data to their licensed copy of SNIP.  When a connection between these devices fails for some reason, the SNIP-2-SNIP assistance logic is used to send more useful advice to the operator of the remote unit regarding the nature of the error and how to correct it.  Of course the SNIP operator can control this feature with the Preferences dialog.
A simple web reporting current status ability has also been added (more to come in Rev 2.x). If a user requests the mountPt "SNIP::STATUS" with a browser ( as in http://rtk2go.com:2101/SNIP::STATUS ) they are returned an html style report.  Extensive controls in Rev 2.x will allow the operator to preserve privacy & security while selecting what item in a basic command set to enable.  End users can retrieve useful data about streams and status when this feature is enabled.  And this can be disabled with Show Main Status check box in Web Pages section of the Preferences Dialog.
A revised menu system for each Stream Type has been added, and is described further here.  With several new Rev 2 features, this provides a more focused way to interact with each data stream.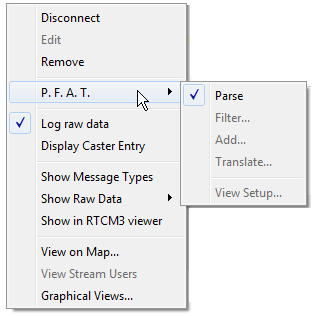 The menu system above displays the term "P.F.A.T." which is a major advancement in the way NTRIP Casters operate, you can read more about it here.   The Parse menu has been moved under that menu and some more advanced auto message detection logic has been added to the initial message analysis process.
Many of the above features serve to reveal the three major goals for our Rev 2 road-map.  The first of these is PFAT.  The second of these is more diverse and versatile usage reporting with over 2 dozen new reports now in development.  And the third is the ability to have an interactive protocol between the end NTRIP Client user and the Caster (within the limits set by the owner/operator of course).  The html report above is the first step in that.  With this, SNIP becomes more than a simple NTRIP Caster, it's a Simple NTRIP Caster with an Interactive Protocol.
Please tell us how you use SNIP and how we can make it better.
Feel free to use the free text areas in this survey to tell us anything else you think we should know.
For Ubuntu 64b:
Release is pending.  The Ubuntu 1.12.0 release is still being finalized at this time.
Revision 2.x Cost Increase
With the release of the 2.x edition in late January these will be an across the board 30% increase in SNIP pricing.  If you are a current SNIP user with a paid license (Basic, Pro or Enterprise) the only affect this will have on you is when obtaining additional slot licenses.  Unlike other Caster products, SNIP does not charge any annual maintenance or renewal fee.