It is very simple. No.   None.  Nothing.  Period.
Many firms sell their NTRIP Caster software and then also extract a monthly or yearly ongoing fee for its use.  We do not.
SNIP is sold, along with a lifetime upgrade path for the model you purchase, for a single one-time purchase cost.
You can upgrade to a higher level model with additional features at any time by paying the current cost difference. You can purchase additional streams for any paid license at any time as your needs grow. [See the pricing page for details]
You can use SNIP for private or commercial use as you see fit.  You are free to charge others for access to the data streams you provide and own in any way you see fit.  [Aside, we tend to think that business model is dying]
Our pricing model is based on the simple premise that NTRIP Casters can be widely sold to an ever growing market whose size is increasing daily.  Most of our competitors depend on a direct sales pricing model that is woefully out of date with reality and generally costs 10x times more than what a similar SNIP node does.
If you are considering the ROI to own and operate a Pro model of SNIP, you are looking at a few thousand dollars in upfront equipment and ongoing monthly telecom fees.  Plus your GNSS devices of course.  [Your office DSL will probably suit any bandwidth needs unless you have many users]   Some Caster providers want $25k for this setup.  Another wants $5k/year and expects to own and resell your data in his network.  These are perfectly valid approaches to address a commercial business opportunity, but they are not the way we intend to market SNIP.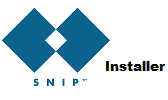 The Lite copy of SNIP was expressly developed to make that point.  It is, and will remain, a free edition of SNIP that is well suited to operating small networks.  It provides the core functions of a very robust NTRIP Caster for those that need one (or more than one; you can run as many copies as you like on as many PCs platforms as you like).  The Lite mode is very popular with the survey community, small GIS shops, precision Ag users, L1-only developers, and a broad range of novelty uses. Like the growing reach of the RTK revolution itself, we are often surprised and pleased to learn of the ways people are employing SNIP.  Both of our other core models, Basic and Pro, offer more streams and more features and are targeted to those needing medium to larger networks with various additional RTK functions.
Need an NTRIP Caster?  We suggest you use SNIP.