What is new in the SNIP 1_9_0 release  [released May 19th, 2017]
The newest release can be found here, incorporating various user comments we have received
The Ubuntu release of

SNIP

is no longer supported.
---
What is new in the SNIP 1_7_0 release  [released April 7th, 2017]
This release of SNIP follows the Rev 1_6_0 release but is targeted for the 64 bit Ubuntu OS.
This is only a BETA release at this time.   The port of SNIP from Windows to Ubuntu is based on the SNIP 1.6.0 release and contains the precise same set of features found in the Windows edition.  A few key points about this release follow:
SNIP is a rich GUI application experience, so a "headless" Ubuntu deployment would not be suitable to run it.
The same free Lite model with paid other models (Basic, Pro, etc.) and node locked registration process is used in the Ubuntu edition.
On the whole, there is no noticeable performance difference between the Windows and Ubuntu operating system for SNIP.  The credit for this goes entirely to Qt, the cross platform tool upon which SNIP is developed.
The initial release has been built for a 64 bit operating system, using LTS release 16.04.
As with the Windows copy of SNIP, good connectivity to the internet, preferably with a static IP to support your NTRIP Clients' finding your SNIP Caster node, is presumed.
This beta release runs under root, which is less than ideal for a public facing server.  This will be corrected in the next revision.
This release is intended for Intel platforms; it will not work with embedded ARM architectures.
Today Ubuntu uses "Unity" as its graphical shell.  Other GUI formats in similar distributions (GNOME, KDE, MATE, etc.) are known to work with minor visual textual formatting issues–user beware.
The overall look and feel is the same as found for SNIP on other platforms.  Further notes on installing and running SNIP can be found here.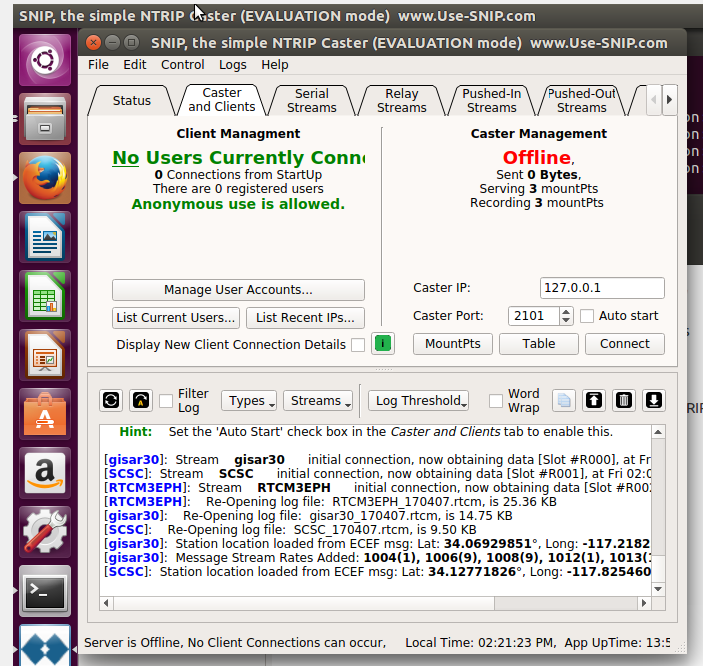 A release of 1.7.0 built for use with 64 bit Ubuntu was released on April 7th, 2017 and can be found at the link below:
What is New
Quite simply; this is a build of the Windows 1.6.0 release targeted for the Ubuntu OS.   The feature set, performance, and user GUI experience are largely the same.   This article is of value when installing:
Beta testers:
If you have any issues with setting up this copy of SNIP the support team can assist you. Just drop us an email note at the normal place ( support [at] use-snip.com ) or call our support line 888-950-8747 during our normal office hours (Pacific Time Zone).  The purpose of Beta testing is of course to provide feedback, therefore please do so.
Next up:
The 1.9.0 release will also support Ubuntu GUI users and will be released only in the BETA channel for early user testing soon after the 1.8.0 Windows 32/64 release of mid-May.  At this time we expect to follow the general pattern of a Windows 32/64 release then quickly followed by a Ubuntu release with the same feature set.
New to SNIP?  Take a quick tour.
SNIP is an NTRIP Caster.  If you are seeking for an NTRIP Client,
try one of the products mentioned here or here.
You can always obtain the most current release of SNIP here.