What is new in the SNIP 2_00_00 release  [released March 13th 2018]
This is the next release of SNIP following the Rev 1_12_1 release of January 5th and including various pre-release Beta copies used as the run up for this formal 2.xx release.  This release supports for both 32-bit and 64-bit installations in Windows.  It is recommended that all Windows 32/64 SNIP installations now update to using this release.  A 64-bit Ubuntu release with identical features has begun final testing now.
Major new features include:
This release of SNIP features the first official release of the P.F.A.T.™ control process developed for Enterprise users and now present in both Basic and Pro models of SNIP  (as well as for Evaluation use).  The PFAT controls are explained further in their own section of the knowledge base.    PFAT allows the manipulation of each RTCM 3 message stream in several ways to create specific message content for different users communities.   As explained further in the knowledge base, the message found in a Base Station can be filtered out, or added to, or translate in various ways.   Additional transformation methods form a major part of the SNIP Rev 2.x feature road-map.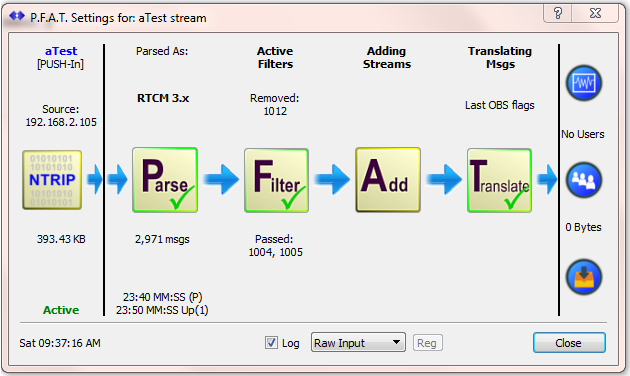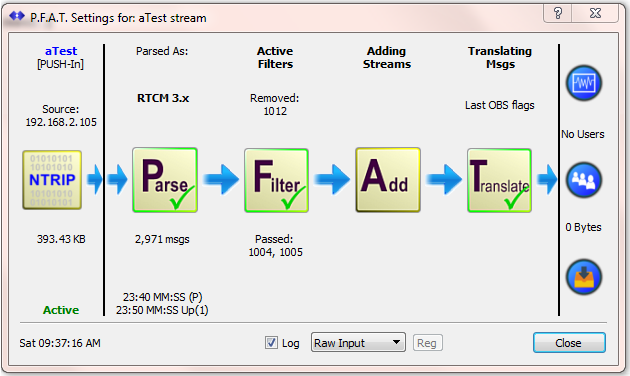 PFAT also makes it easy to support different user communities with different datum needs.  It now become easy to adjust the frame of reference for any Base Station to meet local needs.
Changes to the console reporting and the general look and feel of SNIP will be seen throughout this release.  A variety of tools and color highlighting,  include a simple 'pause' button, have been added to the console log to make finding the key information easier on a busy Caster when connection events are occurring rapidly.  Along with this, a menu system of new report styles, with various methods of sorting and filtering has been introduced.  These are also a key part of the SNIP Rev 2.x feature road-map.
Further support for SNIP-2-SNIP additional connection information has been expanded in this release.  And a bug present in release 1.12.1 has been corrected to preventing sending this data to other NTRIP Client devices who could not process it.
For remote users connecting to SNIP, this release implements a new 'status' command that allows (if the SNIP operator has enabled it) getting a web page of the current holdings in a more readable human format than as an NTRIP Caster data table.  This is feature is present in all SNIP models but is disabled until enabled.  You can see an example of its use on our popular RTK2go.com open NTRIP Caster with the below command line
One of the summary lines in the above web report makes it easier for the less experienced user to see what mountPts are not longer present at that moment in time on the Caster.
Each data stream now has menu item to list its connected users; as well as one to display its location on a map.  These menu items are covered further in an article on the new menu system.  And the extensive Base Station tool-tip system has been expanded to handle the additional information that PFAT settings can create. 
Many other minor improvements were also added in this release of SNIP and a number minor problems were corrected as well.  Among the most notable were:
If an existing Base Station stream is auto-parsed (by right clicking on the stream) and SNIP is then unable to both determine and to parse the message content (as can occur with uBlox proprietary or various Trimble CMR stream types), then SNIP will restore the original message format found in the provided Caster Table.  The only exception to this is when the Caster Table is ill-formed in which case SNIP will correct it.
SNIP will once again detect and use a NMEA $GGA sentences in the NTRIP Client connection when a client connect s using the Rev2 NTRIP protocol.  This ability was not present in the last two releases of SNIP but has been restored.  [$GGA sentences are used with SNIP's NEAR mountPT ability to select which stream the user needs]
An editing issue with PUSH-In reservations where the reservation was incorrectly marked as a  Hidden stream has also been corrected.
---
Please tell us how you use SNIP and how we can make it better.  Feel free to use the free text areas in the survey below to tell us anything else you think we should know.
New to SNIP?  Take a quick tour.
SNIP is an NTRIP Caster.    You can also use SNIP as an NTRIP Server with your existing GNSS devices
If you are seeking for an NTRIP Client, try one of the products mentioned here or here.
You can always obtain the most current release of SNIP here.