As part of SNIPs overall tool support, we have created a web-based tool to allow any user to see an NTRIP Caster's  returned Caster table in a more human-readable format.  You can access this resource at:
Decoding a Caster Table
To decode any Caster Table accessible on the internet, this link:
The information displayed and general layout follows many similar tools provided by NTRIP Client software tools.  You can point this tool to any public Caster you wish.
Even if access to the Caster data streams is restricted (i.e. you must register and may need to also pay for access), the Caster Table itself is typically pubic.  Here are three examples of open and free data sources you might care to try.
Here is an open Caster we operate to support various clients:
at ntrip.use-snip.com:2101
Here is the RTK2go Caster used by SNIP operators who need a static IP:
at rtk2go.com:2101
Here is an open Caster operated by IGS with many mountPts from around the world:
at www.igs-ip.net:2101
When the SNIP preferences on a machine have been set to enable Enhanced Caster Table Replies, and the option Browser friendly Caster Table is active, a link to this page is also placed at the bottom of the page returned to the requester.
Plotting a Caster Table
On the above page, you will notice a small button marked Map to the right most for each entry, as well as View All button at the top and bottom of the table.  These can be used to create a Google style map of the current table contents.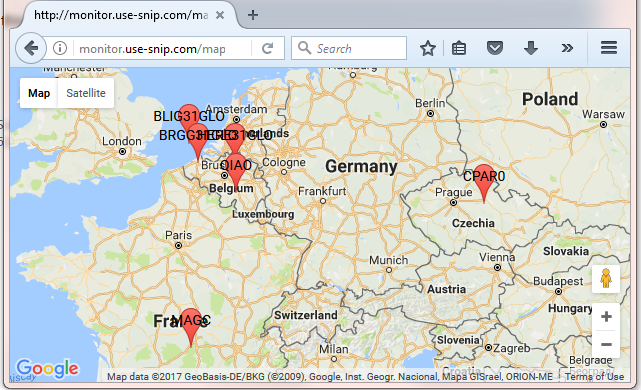 Plotting Caster Tables from around the World
The monitoring tool is quite useful for causal Caster browsing.
Some example maps of Networks where SNIP is being used (click to enlarge).