What is new in the SNIP 2_11_00 release – released September 10th 2019
(updating the prior release of 2_10_00 of August 6th 2019):
This is the next production release of SNIP following the Rev 2_10 release.  This release contains new features as well as several minor SNIP corrections and improvements in response to user requests.  It is recommended that all deployments upgrade to this edition.
This release supports both 32-bit and 64-bit installations in Windows.  It is strongly recommended that all Windows 32/64 SNIP installations now update to using this release.
Notable changes in the release include
Changes include several newly added features in SNIP including:
Greater Support for NTRIP Rev2 Type Connections
Better support for using NTRIP Rev2 in SNIP created connections.  This article describes how to control this feature in more depth for each of the different stream types.
While SNIP has supported both Rev1 and Rev2 Client connections for some time, with this release the SNIP operator can make and control Rev2 or Rev1 connections for any of the Remote-Relay, PUSH_In, or PUSH_Out stream connections as well.   Whenever Rev2 is used, both a user name is needed as well as a password and this has been fully integrated into SNIP as well.
Corrected Errors in Indexing / Saving Connections
A number of indexing issues with editing and saving stream/slot settings have been corrected in this release.  In the recent past some PFAT settings were not being correctly persisted when a stream was stopped and restarted.  And at other times these values were not correctly being saved when edited.  In still other use cases, removing a prior remote-relay configuration caused issues.  While few deployments experienced these issues, all deployments should upgrade to this release to ensure continued correct operation.
Improvements to the PUSH-In Reservation System
The PUSH_In reservation system has been expanded and additional features have been added in this release.  This was partly due to better support the use of NTRIP Rev2 connections.  The type of connection to be accepted for a reservation can now be specified.  A new provision has been made to keep user details (called "contacts" in SNIP) for each reservation, this will be greatly expended in SNIP Rev3.  New tool-tips also now show the state of connected reservations as well as the last connection time and date and other details for managing inactive reservations. This article describes how to control this feature in more depth.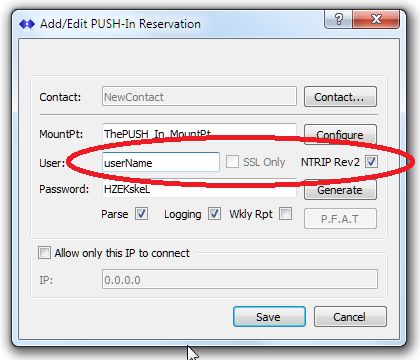 Improvements to the PUSH-Out System
The PUSH-Out connection style has also been expanded  to support the use of NTRIP Rev2 connections.  This article describes how to control this feature in more depth.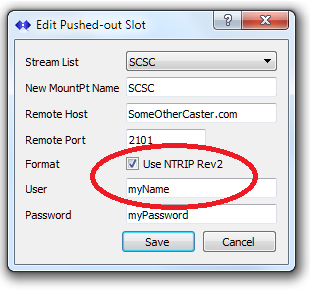 Improvements to the IP Ban Logic System
The IP BAN logic has been expanded to allow additional filter controls on what types of connections are counted in the ban logic process (a Pro model feature only).   Now failing NTRIP Servers (devices that seek to send data to the SNIP Caster) can (optionally) be "charged" at a higher rate than failing NTRIP Clients (devices that seek to get corrections data from the SNIP Caster).   New controls also allow detecting NTRIP Server connections that never send much actual data or that are repeatedly connected for only short periods of time.  Incorrect repeat connections with these issues are a growing problem with devices that reuse code derived from the RTKLIB open source project.  These new controls allow the operator to set suitable thresholds.
Improvements to the RTCM 3.x Message Viewer
The RTCM Message viewer dialog has been improved to show additional drop-down details about each of the Base Stations providing data to the viewer. This is achieved by reusing the extensive tool-tip style report used in the tab for each stream.
Other Misc. Changes of Note
The real-time display layout of raw message contents in a bulk Hex format will now resize according to the window size to conserve log space.
A summary of the number of new IP Ban events occurring per day has been added to the general status report.
The right hand event summary window display (a Pro model feature only) now has a "Hide CMD" checkbox to disable the display of routine remote command requests seeking system status.  When enabled (the default), only the machine client connection events are shown.  This overcomes the use case where the operator checks his machine after a period of time (many hours or more) and is only seeing a sequence of remote monitoring system connections, rather than prior relevant user (NTRIP Client) connections.
A number of internal items were revised in anticipation of SNIP Rev 3.x and the use of a modular Plug-in system to expand SNIP with new functionality.
How to Update…
Updates to SNIP are always free and easy, your Caster will be offline about 3 minutes.  From within SNIP, simply use the menu item Help ⇒ Check for Updates…   Your update will be downloaded from our secure servers and then you will be asked to allow SNIP to restart and update itself.  That's all there is to it!