For 32-bit Only Users.  Release 1.12.00 depends on having a 64-bit OS to run.
Release 1.12.01 allows both 32 and 64 bits.
If you can only run 32-bits on your Windows machine, please use 1.12.01
And for XP users.  Release 1_10_00 is also the last version of SNIP suitable for use on older Windows XP machines.  You can use the link below to obtain an older copy of SNIP for your needs.
Download older SNIP 1_10_0 release.
---
What is new in the SNIP 1_10_0 release  [released July 12th 2017]
This is the next release of SNIP following the Rev 1_8_0 release on May 17th.  [Aside: Henceforth both Windows 32/64 and Ubuntu releases will use the same numbering plan.]   This release has several areas of new functionality added.  See the full list below.  It is recommended that all Windows 32/64 SNIP installations now update to using this release.
Major new features include:
This release of SNIP features a revised RTCM3 message viewer and decoder.  The internal logic has been rewritten to better decode all possible RTCM3 messages.  Extensive tool-tip help has also been added for those users not familiar with the various RTCM3 and RTCM2 message types.  Detailed decoding (an expanded view of the contents) for several new message types has been added as well. The image below shows the expanded view for two messages (#1006 and #1008) and one of the new tool tips (#1033).  [Click on image for full size]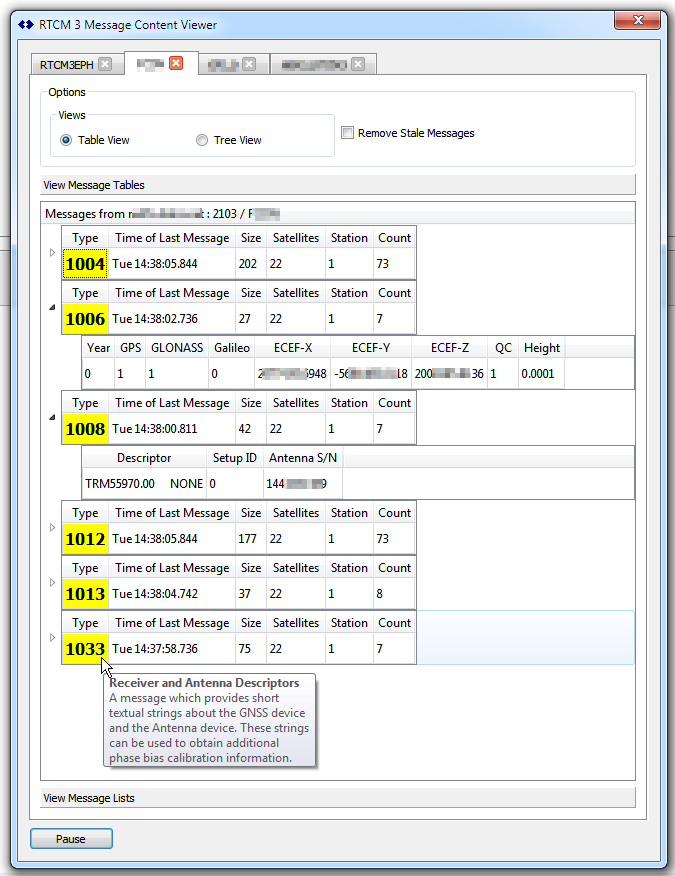 A set of comprehensive IP Banning features to prevent abusive access to your SNIP Caster by remote IPs has also been added in this release. This allows the SNIP operator to control how often any misbehaving NTRIP Client devices may fail to connect before being banned for a predetermined period of time.  A simple rules based system handles this logic automatically for most needs.  Advanced features allow editing a long term list of banned users and controlling the ban period used for specific IP addresses.  [Click on images for full size]
This release also supports the use of Web friendly Caster Table pages when a non NTRIP Client device (such as a web browser) connects to SNIP.   Also, a Web friendly reply can also be sent to affected end users when an abusive IP has been banned (rather than a 403 html reply).   These functions can be controlled with the improved Preferences dialog box.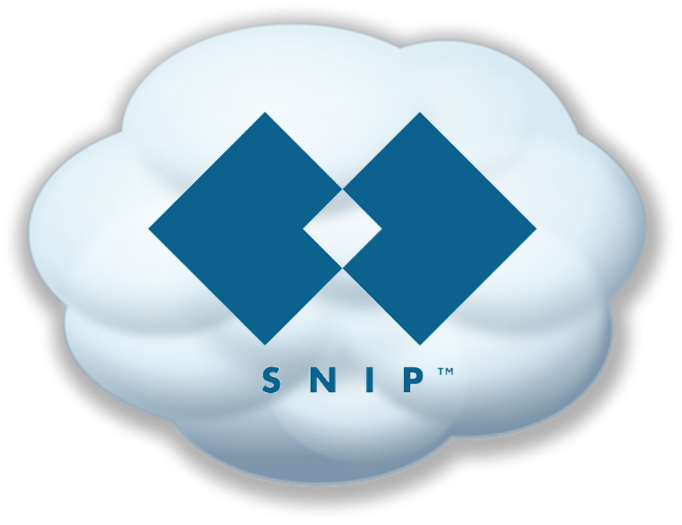 An On-LIne Caster Table decoder with support for basic mapping abilities has been put on-line as well.  This is the first of several cloud based monitoring tools we will be releasing to further support SNIP users.   Other tools will allow 24×7 remote monitoring of your SNIP node.  You can use this page as a quick way to test and decode any Caster Table.  The link is:  monitor.use-snip.com
Support for both Public / Private data streams in the Caster Table process has been added.  Using this feature, you can decide which data streams are to appear in your published Caster table; hiding as many streams as you need.  Some SNIP operators requested this feature simply for security reasons, while others (typically researchers) did not want transitory data streams to appear alongside more "stable" ones.   Each of the basic stream types (where it makes any logical sense) now has support for this ability.
Other improvements were also added in this release of SNIP including:
The IP usage report format has been revised to be terser and also to be sorted by the IP used and the User agent string.  You can now more easily see who has been connecting to your machine, what devices they are using, what mountPt streams they use, and other useful management details in this report.
The color highlighting scheme which is used in the PUSH-In tab now changes to reflect a stream timing out and going stale. Repeated connections by PUSH-In reservation devices are also now counted and displayed.
Some refactoring was done the way the Client connection and disconnection logic is handled to be more forgiving with very slow NTRIP Client devices whose connection process who may take tens of seconds to fully complete.
The Navigation filter solution and resulting graphical displays have been adjusted to operate with L1-only data streams.
The process of populating the message field in a  Caster Table Entry now removes the extra space after a comma to produce slight smaller tables at the expense of readability.  Both forms are valid.
";RTCM 3;1004(1), 1005(15), 1012(1);"   is now expressed as:   ";RTCM 3;1004(1),1005(15),1012(1);"
The Caster Table produced by SNIP now supports automatically sending a NET record.  NET records provide an (optional) way to inform other parties how to contact you in order to get an account and access your Caster.  The contact data can be set (or not) using the Preferences dialog box.
For Ubuntu 64b:
Release is also out.  The Ubuntu 1.10.0 beta release uses the same code as the Window 32/64 bit release and has also been released at this time.  You can find the download link button alongside the Window 32/64 button at this time.
Known

Ubuntu issue with the 1.10 release.



This 10th release has an issue with NEAR streams when there is only a single stream in the pool.  It will not then serve data to clients.  Ensure you NEAR streams have at least two members in the pool to overcome this.   This issues is not present in latter issues of SNIP.
New to SNIP?  Take a quick tour.
SNIP is an NTRIP Caster.
You can also use SNIP as an NTRIP Server with your existing GNSS devices
If you are seeking for an NTRIP Client, try one of the products mentioned here or here.
You can always obtain the most current release of SNIP here.