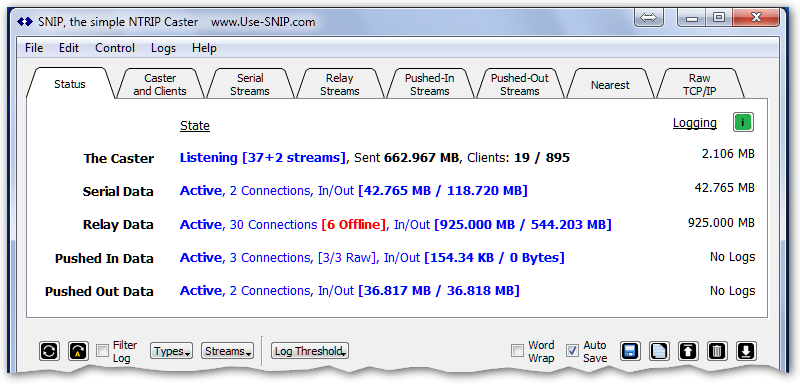 The Status tab is used to quickly see the overall state of the SNIP Caster.  The five status lines show the state of the server, the clients, and the status of connections in the four types of data streams.  A simple color scheme is used in the text, where blue indicates normal operation, and red indicates some abnormal problems (typically noted in the log as well).   The total size of all created log files is shown on the right side for each type of stream as well.   A status line at the bottom of the window, not shown here, also displays the update and recent status data.
In the above image, a caster has been running for less than 24 hours.
The lines show that for this Caster…
The Caster is on-line and listening for Clients, and has sent out over 662MB of data and it currently has 19 active clients connected to it (of 895 since it was started).
There are two active serial data streams, which have provided ~42MB of data, of which ~118MB was sent out (indicating one than one client per stream).
There are 30 active relay streams, which have provided~925MB of data,
~118MB of which was sent out to requesting clients.
There are three PUSH-In streams from remote NTRIP Server connections at this point in time.
There are Two PUSH-Out streams send data one another remote NTRIP Caster.
The summary values shown here are updated every 3~5th second when the server is loaded. When loading is less, the values are updated more frequently to reflect near real time conditions.
The above screen shot reflects a Caster which was operational for only a few hours.   Here is a similar shot from a SNIP node which had been running and servicing clients for two weeks when the image was taken.  In this image one can see more typical uses.   For example; when the screen shot was taken there were 33 current clients.  There have been a great many clients (>65k, ~5k/day). Note that the single serial stream has served 3x the data it received (~1.59GB).  Overall data served to clients from these the streams exceeds the raw input data from the streams, indicating servicing a useful client load.