Here are instructions on how to set the SNIP console log to gather details to send to us for support assistance.   All SNIP operators can request service and support by email at support [at] use-snip.com   The below settings will show all the details needed to debug most connection and setup issues in the console log.  Once the event in question has occurred, copy and paste the log into your email.  As an alternative, you can also save the console as a standalone file.  There is no need to master the use of the console filter controls in the below method.
When the console widget is selected in SNIP, the command ctrl-A will select the entire log, and crtl-X will copy it.  You can then paste it into the text body of your eMail program.  Do not be concerned if the log you send is long.
Enabling More Verbose Logging
The three settings below control the level of detail the console reports.  Less detail is suitable when you are confident things are running well.  More detail is often needed to debug a connection problem or when some activity needs further review.   The console shows events as they occur in real time.  Use the pause button on the right side if scrolling is a problem when reading.  The various reports can also be of value for summaries of past events.
Enable verbose logging as follows:
Step One:
In the main window, set the Log Threshold drop down to be 'Minor' to see more details for every log entry, regardless of type.  The Filter Log checkbox should be off.

Step Two:
In the Caster / Clients tab, check the box marked Show Connection Details so that you can see the connection details sent to SNIP by all new NTRIP Clients (Rovers).  This (and the log messages) helps spot bad user IDs, passwords, and any mountPT, spelling errors which are often the issue here.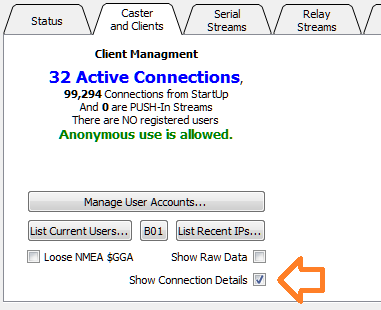 Step Three:
In the Pushed-In tab, bring up the SetUp… dialog and check the box marked Display New Pushed-In Connection Details.  This allows you to see the same details from any potential NTRIP Servers (Base Stations) as they connect, similar to the above.

Note:  Please be aware the console log contains various private connection details about your users and your base stations.  While passwords are not shown in in clear text, they can be decoded from the console details.
Also:  Please be sure to mention your Caster DNS or IP address and port whenever communicating with SNIP support staff.  This ensures we can quickly look at your machine from the point of view of an NTRIP Client and see any obvious configuration issues.