The STREAMS Report provides a summary of all the Base Station sources (data sources), sorted by the type of connection and its assigned slot number. The current Up / Down status for each is also provided.
The general look and feel of the report is very similar to List MountPts button which is found on many of the tabs.
The example below shows a typical small caster and its connections.  [Click to enlarge image.]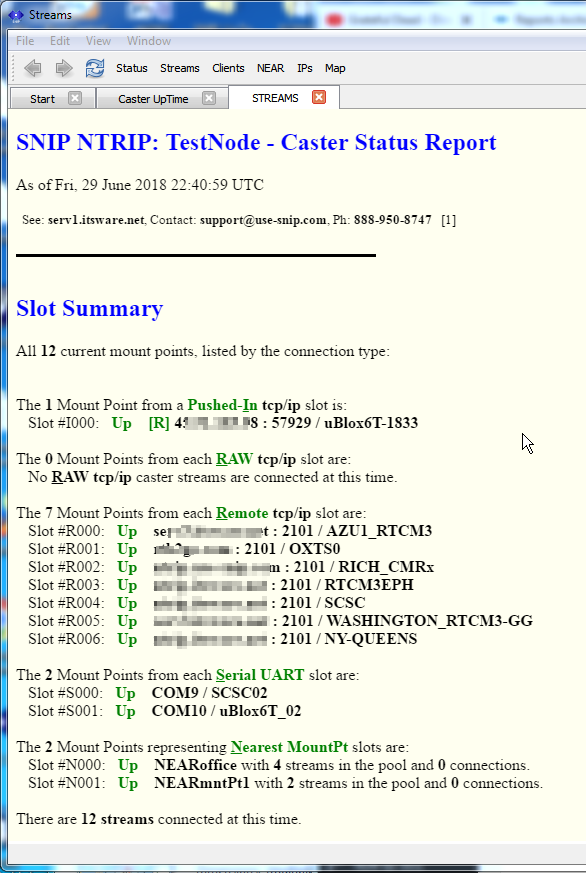 The STREAMS report organizes the data by slot and connection IP and current status for the use of the SNIP node operator.  This varies from the more "end user centered" presentation style used in the STATUS report.  Because the actual IP and port values used to connect with remote data stream are shown, this report is not available over the the web.  Only the local operator can request it.
Requesting the Report
This report can be obtained in several ways as shown in the table below.
Invoke this Report as follows:
Web Command:
/SNIP::STREAMS
Admin log in required to use (pending feature).
Doc Command:
STREAMS button in viewer toolbar
SNIP Window:
On most Tabs, the button: List MountPts
Menu: Reports -> All Streams -> MountPt Report (classic)
Details:
When the report is requested over the web, the requester must provide valid admin credentials in a current session with each request.  Web requests from non-admin users result in an Invalid Report reply.